Voted as the 10 most happiest cities in the world,  rated among the top 10 cities with the most good looking men & women, home to extremely tall men with blonde hair and blue eyes.. I can almost hear those bags getting packed 🙂
Travelling to Europe is nothing short of exciting and when you add Amsterdam into that mix, your trip just went "Sky High".  We travelled in the month of March, just in time for the tulip season at Kuekenhoff and the weather was just awesome.
Where to stay
Enter hostels..
Hotels can be quite expensive in Europe so booking way in advance or looking at Airbnb options is the best way to go for budget travellers. Check out sites like Hostelworld, Hostels.com , Booking.com, all guaranteed to offer the best rates, for as cheap as $15.
In case you don't mind shacking up with the locals, check out Couchsurfing.
What to eat
You just cannot diet in this city… When you are surrounded by sauce smothered fries, pancakes, waffles, cheese and jumbo sized Nutella jars staring at you from every shop window! This really does explain their active lifestyle, those smart Dutch people!
On a similar note, we found food to be quite expensive. So in case you want to stock up on food/necessities, head to supermarkets like Albert Heijn or HEMA. These shops are spread all over the city, so its hard to miss them. We also stumbled upon a few farmers markets and they were just amazing and cheap.
What to do
The best way to explore the city is on foot/bike and by getting lost in its alleyways. We found ourselves walking for hours until our feet hurt but still not getting enough of the city.
Want to make most of your trip to Amsterdam? Then check out this city guide!
Amsterdam is much more than the cliche city that it is made out to be.  Amsterdam has so much more to offer in terms of nature, adventure,arts- you name it and they have it. But this epic experience need not come with a huge price tag. Here are our top picks while visiting Amsterdam on a budget.
I Amsterdam Letters
We arrive at this prominent landmark at 7:30 AM and was lucky enough to click a picture without any photo bombers. This place is crawling with tourists all day long and you need to either beat 'em or join 'em.  It still was fun clicking and re-clicking with passerby locals applauding our luck  of having the place all to ourselves. That's another thing about the Dutch, happy, friendly and extremely helpful.
Electric Ladyland Museum
This musuem turned up one in one of our online research and we loved the concept. But finding this place was quite challenging with even the locals unaware of its existence.
But all that handwork paid off as this is by far one of the strangest and the most fun museum's that we have set foot in. The museum takes you through the curator Kumkum Baba's journey to the Himalayas and other remote locations around the world in search of florescent minerals and stones. The florescent art on display sure did give us a head trip.
Ticket Cost- $5
Canals
When the city has close to 165 canals, its hard not to talk about them. It is truly a pleasure to walk past them every single time. We loved spending afternoons at eateries overlooking the canals, lost in the view for hours.  We would strongly recommend a cruise, better yet, a booze cruise.
Booze Cruise with unlimited alcohol- $25
 Free Amsterdam Walking Tour
We became ardent fans of the dutch lifestyle for all the physical activity they included in their day to day lives. Most times, the pedestrian lanes were more crowded than the road itself. Suit & tie clad men riding cycles to work is a very common sight here.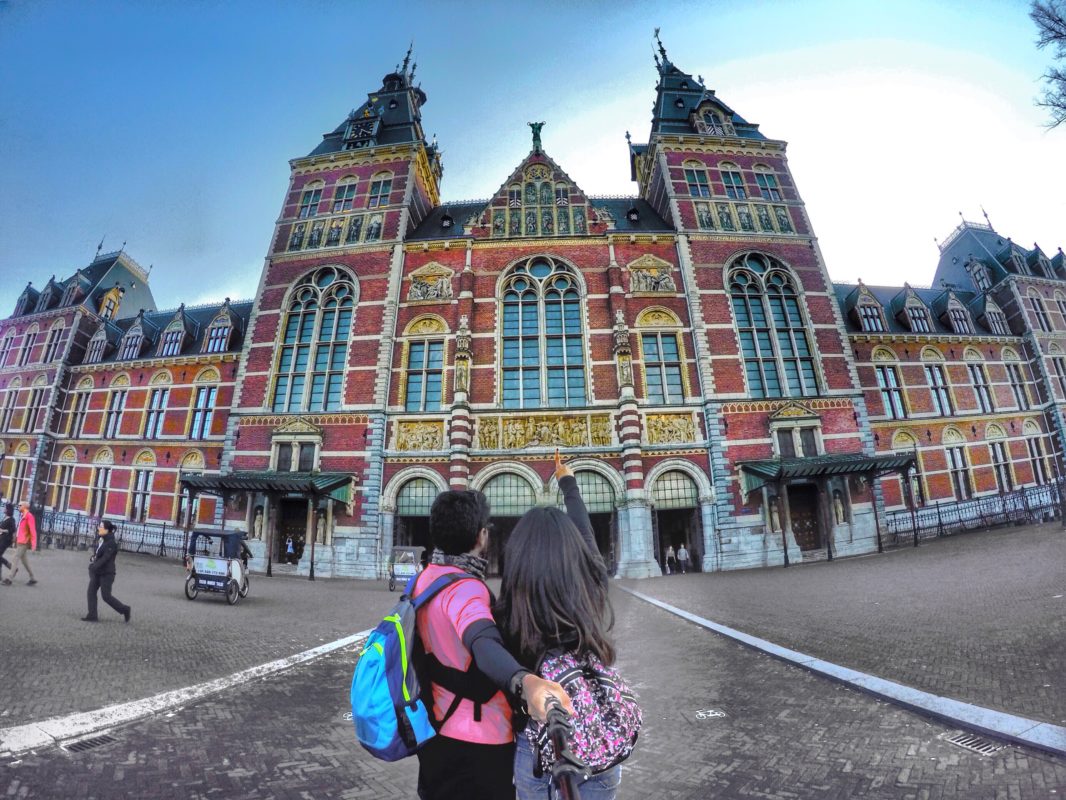 Being budget travellers, we love to maximise our trip at the lowest possible cost and this involves a lot of research, months in advance to plan out the itinerary.  When you start planning your trip, you will be surprised at the number of things that you can do at absolutely zero cost. We love walking and this economical walking tour is the best way to see the city's top spots and understand its history straight from the mouth of a local.  Available twice daily, it starts from the National Monument in Dam Square.
Experience the Coffeeshop culture
 You want Coffee, you go to a cafe. You want the "herb of wisdom", you apparate here.
I confess to being totally judgemental prior to my trip to Amsterdam. But once I saw people smoke up in front of me without a care in the world, and most importantly their content and happy faces.. it was clear to me. After all,"Doing what you like is freedom, liking what you do is happiness".  This trip did change a lot of preconceived notions in my head and I am thankful for that.
All those Pulp Fiction fans out there, do visit Betty Boop coffeeshop, where Tarantino wrote most of Pulp Fiction.
Heineken Experience
Vishnu is a big fan of Heineken and it was on top of our list of Must-Do's. The tour in itself on the history of beer was quite boring. But there is light at the end of every tunnel and in this case free freshly brewed beer at the end of the session.
Now I am gonna gather my guts and say it aloud- "I hate Beer" I hate its bitter after taste  and steer clear of it.
Not wanting to look like a total snob at the tasting, I decided to give it a try. One too many sips later to my utter surprise, I seemed to like the taste. There was no bitterness, one of the smoothest & freshest I have ever tasted. The main reason why I would recommend this tour.
For all those Heineken-holics, they offer awesome Heineken merchandise including your own personalised beer bottle with your name on it.
Ticket Cost- $20
Personalised bottle- $7
Red Light District
You saw this coming, dint you? No trip to Amsterdam is complete without a tour of the red light district. So we lost our way trying to find this place and after much hesitation we ask a passerby and he directs us in the right direction just as cooly as if we had asked the way to the nearest McDonald's. That's how touristy this place is nowadays.
One look at the girls on display and my self esteem goes on a holiday. Be warned, try clicking pictures of these ladies and your camera/phone might end up at the bottom of the canal.
With too many options to choose from, ranging from peep shows/live shows to museums all devoted to the creative acts of procreation.
 Do visit Oude Kerk, a church bang in the middle of this befitting neighbourhood
Entry Cost- FREE
Pet dogs, lots of them
Being the kind of dog lovers that we are, this city is a dream come true. From the moment we landed at the airport to the trains, metros, restaurants, malls, boats, we have seen pooches in all sizes and shapes trotting the city close on the heels of its human friends. With no reported record of strays, this city is not only open minded but compassionate.
We did fall in love with Amsterdam. Keep in mind… What happens in Amsterdam, stays in Amsterdam!
Absolute Must's in this city
▪City bike tour
▪Electric Ladyland Museum- Amsterdam
▪Try Stroopwafel
▪French Fries at Mannekin Pis, Damrak 41,Amsterdam Centrum
▪Try farm fresh fruits at a farmer's market
▪Try the local cheese
▪Van Gogh Museum
▪Heineken Experience
▪Limo beer bike
▪Canal booze cruise