Zanzibar is a semi-autonomous part of Tanzania in East Africa. Having been a Portuguese colony and later controlled by the Sultanate of Oman, Zanzibar has both European and Arab influences. Zanzibar is known for its pristine, virtually untouched, secluded beaches and is an ideal location for a short break. Presenting our ultimate guide to Zanzibar.
HOW TO GET THERE
Tanzania has relaxed visa regulations. You can find details on its visa policy here.
Indians can enjoy visa on arrival. Kenyan Airways, Rwandair, Fly Dubai, Turkish Airlines, Etihad have frequent flights into Zanzibar. If you have booked a beach resort and plan to spend most time in the hotel, do not rent a car. If you plan to see all the attractions here, it is better to rent a car as its much cheaper. Cabs cost up to $50 one way. Shared Taxi's or Dala-Dala's are also available. Renting a car gives you the freedom to explore the island but be wary of driving within the city limits. 1 ltr gas costs roughly $0.94.
WHERE TO STAY
You need to be cautious while booking hotels in Zanzibar as many including the luxury hotels do not have a private beach access. Not having a private access means you will be stopped by various street vendors and tribesmen trying to sell their wares or simply for money while strolling by the beach and venturing out after sunset is considered unsafe.
We decide to stay at the Pongwe Beach Hotel in picturesque Pongwe, the quintessential tropical paradise. Many beaches including Pongwe are highly effected by tide which means during low tide the water recedes 1 to 2 km inside and you can walk literally into the horizon wading through shallow water, with tiny fishes and urchins playing at your feet and during high tide you can enjoy a good swim as the water returns. Hotel's usually provide you with a tide time chart which helps you plan your day.
Read about our stay at Pongwe Beach hotel here
WHAT TO PACK
Zanzibar is best enjoyed from June to February. Swim wear, hats, white tee and denim shorts, loads of sunscreen and mosquito repellant bands are the essentials here.It rains quite frequently here.
GPS AND MOBILE CONNECTIVITY
You can buy a local sim though the connectivity is not that great. In case you are driving, best to use a navigator or offline map. Be cautious on short routes shown in these maps as it shows routes through forest areas.Stick to main roads at all times.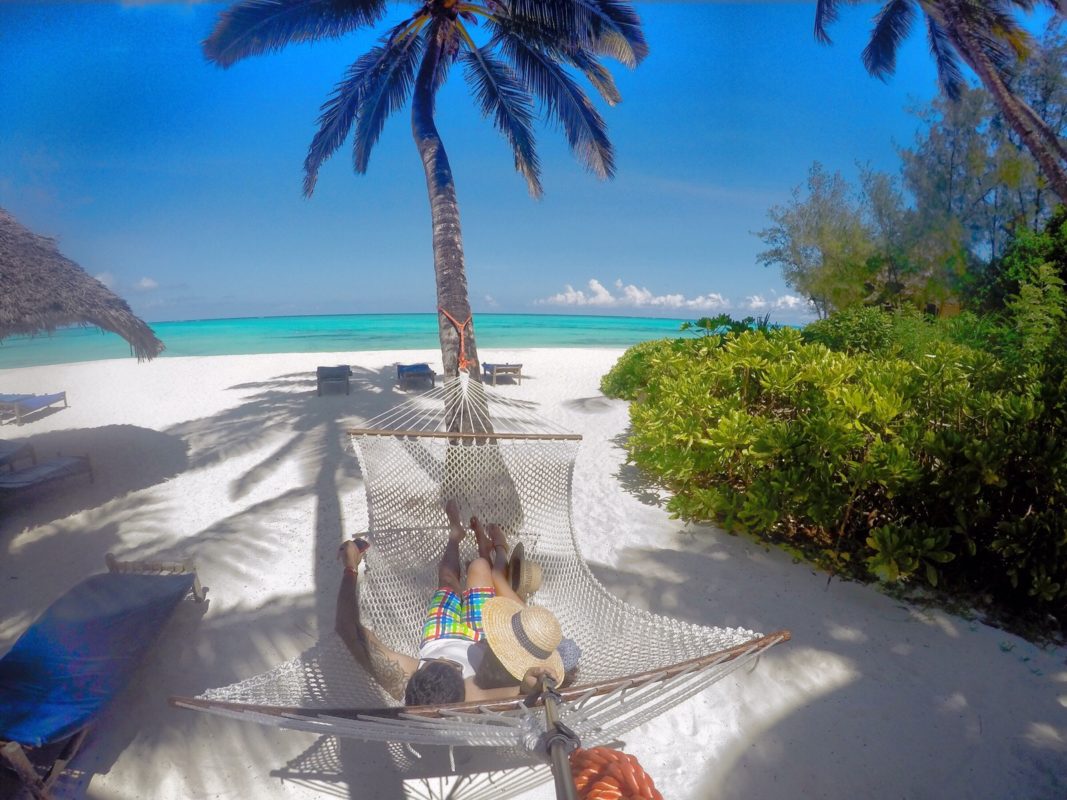 Words cannot describe the feeling of waking up to the sound of the sea and the salty stirring breeze. Having woken up quite early on our first day here,we venture out into the retreating seabed to watch women from nearby villages collecting seaweed and fishermen sailing out towards the deep sea.
After a quick swim and a leisurely breakfast comprising of locally grown fruits, we were ready to explore the city. We decided to hit Nungwi, which is at the far north of the island. The drive takes about 40 minutes with stops at various police check points. Such check points are common in Zanzibar and you need to ensure that the car registration and insurance are up-to date and you will need to show your local driving permit and international license.
NUNGWI
Nungwi offers a wide variety of water sports, but we gave those a miss and visited the Mnarani Marine Turtle Conservation pond. These turtles are rescued from the local fishermen's net and are brought here to heal and mature and on Feb 25th every year, they are released back into the wilderness. We were surprised to find many volunteers from Scandinavia here tending to the baby turtles. Though they do not allow visitors to touch fearing contamination, they let you feed them.
We stayed at Nungwi to catch the sunset before driving back. We came across lots of caution online on driving in Zanzibar ,especially at night due to which we avoided driving after dark but otherwise the roads were fine and unless you go into town there isn't much traffic. We usually spent late evenings at the restaurant in our hotel watching the moonlit sea and enjoying a glass of wine while playing and feeding the bush babies who turned up at dinner time like clock work.
We had reserved the next day for the very famous Rock restaurant in Pingwe which is featured in various international magazines. Perched precariously upon a rock in the middle of the sea, this restaurant offers spectacular views. We reached during low tide so could walk up, else you have to take a boat or swim. A drink later, we head to the famous Stone Town. An hour and a half drive, we encountered quite a bit of road blocks and diversions. Tourists are advised not to drive in Stone town so we decided to park close by and walk up the rest. Stone Town, a coastal trading town, consists of the various bazaars, food streets, spice markets, heritage sights/museums and places of worship. It was extremely crowded to the point that we were not able to walk without bumping into people /food carts. Though considered a main attraction, we did not quite enjoy the town and headed back after a quick visit to Mercury's Restaurant which has a good view of the sea. Be sure to stop by the fruit vendors on the road who sell local fresh produce. 
To be honest, what we enjoyed most was staring into the ocean with a book in one hand and a perpetually filled wine glass on the other.A trip to Zanzibar is an absolute must for those looking for a tranquillising break without breaking your bank. A trip that connects you to Mother Nature.
Asante Sana Magical Zanzibar!
Highlights
• A remote hotel with a secluded beach. Would recommend Pongwe Beach Hotel
• The African Cocktail- Dawa, which has medicinal values too
• The Rock Restaurant, Pingwe
• Cheetah's Rock- Email bookings must be made way in advance
• Forodhani Park in Stone Town- For street food lovers
• Water sports at Nungwi
Watch Out For
• Rent A Car Frauds. Ensure the registration & insurance belongs to your car and are up to date. Would recommend Zanzibar Express Car Hire.
• Unscrupulous police officers who make up unheard of traffic rules and fine you.
• Flight delays and cancellations without any prior notice.
• Strangers who approach you for money.